Day 1: Cape Town - Upington - Kanoneiland
Visit Bezalel Wine and Brandy Cellars for a wine and brandy tasting that includes all the major Northern Cape Wines.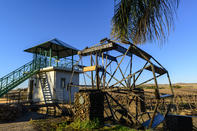 ©Roger de la Harpe
The Water Wheel in Keimos, Northern Cape.
They also offer traditional lunches and picnic baskets that can be enjoyed in the lovely Orange Valley greenery. They believe in a farm-to-table approach and the fresh produce used are either grown on the farm or sourced from nearby farmers. Natural and organic ingredients are creatively combined to create delicious dishes with authentic Green Kalahari flavours.
Get comfortable in front of the fireplace or relax out in the lush gardens for an informative tasting experience that will guide you through their range of boutique dry White and Red wines, oak matured fortifieds, pure Potstill Brandy and delicious infusions.

Kanoneiland is the largest inhabited inland island in South Africa. It remained an uninhabited island overgrown with reeds nestled in the middle of the Orange River until 1926, when 52 farmers began to redirect the river, creating small channels for irrigation, and clearing the fertile alluvial soil for cultivation. Today they cultivate grapes, mostly sultanas for raisins and some Colombard for wine, while lucerne, and pecan nuts.