Contrasting this typically dry, desert scene, are the water features found in the area. A key natural wonder of the area is the Augrabies Falls. This waterfall, the 6th largest waterfall in the world, is a definite must-see. Other noteworthy natural features in the area include the hot springs at Riemvasmaak, Augrabies Falls National Park and the Kgalagadi Transfrontier Park.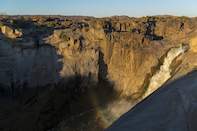 ©Roger de la Harpe
Augrabies Falls on the Orange River.
Another water feature unique to this dry area is the Great Gariep River. The semi-desert landscape contrasts sharply with the rich farmland on the banks of the river – the river supports a greenbelt that lies at the base of rocky cliffs.
Dried fruit is a thriving crop of the area, particularly sultanas and dates. Irrigation schemes have turned the desert into the greenbelt, making acres of vineyards and other agriculture possible. 10% of South Africa's vineyards (23.5million vines) are found in the Orange River valley and southern Kalahari. Key agricultural features include Date Palm Avenue – the longest line of date palms in the southern hemisphere, operating water wheels that are still in use, and Irrigation tunnels built by Cornish miners.
Alongside natural and agricultural features, the route boasts a number of historical sites, museums and monuments in its towns and villages too. These include German graves in Kakamas, the water wheel and tunnel systems and the first hydraulic power station in South Africa.