Natural Splendor
Take a trip to South African Astronomical Observatory on the Karoo Highlands Route to experience the universe on one of the clearest skies on the planet. Stargazing is a popular attraction in the Karoo Highlands but don't spend all your time looking at the sky, the area also boasts the largest variety of succulents found anywhere on earth, there are over 9000 plant species in the Great Karoo.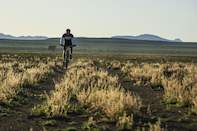 ©Jacques Marais
Mountain biking in the Karoo Highlands Region.
Adventure & Adrenaline
For adrenaline junkies, the Karoo Highlands Route offers cyclist farm trails and immense hiking opportunities. Walk back in time as you explore the rich history of the San people through their rock art and tools. Travel like a local using donkey cart rides and enjoy the historical tours. Peer into the rich history of this region of South Africa and you will find a great adventure awaits in the Karoo Highlands.
Culture & Leisure
The Karoo Highlands sports a number of museums and botanical gardens, celebrating both the history and flora of the area. Pop into Oorlogskloof Nature reserve or Tankwa National Park to learn about the relationship between the land and the people. If you are interested in military history, note that the route is littered with Anglo-Boer War museums and relics.
Eat & Sleep
From coffee shops to farm stalls to sushi restaurants, you will be spoiled for choice in the Karoo Highlands. Try the locally made, award-winning cheeses, unlike what you will find in any other climate. Many locally owned businesses serve local cuisine everyday. Make sure to try the best lamb in the country while you savour the flavours from these small towns. End your visit with a large slice of brandy tart and you will sure to be back for more.