On the Karoo Highlands Route visit the sleepy town of Sutherland. It offers all the iconic Karoo charm with friendly local people, icy nights and perhaps the best lamb in the country. It is also a world-renowned destination for stargazing. Highlights include the South African Large Telescope — or SALT — the largest optical telescope in the southern hemisphere and a tour of the South African Astronomical Observatory.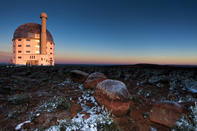 ©Jacques Marais
Southern African Large Telescope in Sutherland.
If you are interested in military history, there are numerous Anglo-Boer War museums and relics. If you want a taste of historic Karoo life, you can spend a night or two in a corbelled house. These small, yet highly effective dwellings are shaped like beehives and have thick walls that were designed for a severe desert climate.
Visit Calvinia, one of the country's largest wool-producing areas. Like Sutherland, Calvinia is as much an attraction for city-dwellers and astronomers as the rare sterboom is for botanists. The area offers 4x4 enthusiasts a variety of routes, with picturesque views, San paintings, and Namaqua Fig trees cropping out of rock surfaces.
Check out the Gansfontein Palaeo Surface in Fraserburg. These deposits date back as far as 250 million years ago.
Williston is host to the annual Williston Winter Festival that takes place just before spring every year. You can also go on a guided tour of the town, experience true Karoo cuisine or uncover a trove of other Karoo gems.
Explore the Victoria West Nature Reserve, habitat to the rare Riverine Rabbit, and the town's museum which host archaeology and fossilised fish, dating back some 200 million years to when the area was an inland sea.