Situated in the Northern Cape, the Karoo Highlands Route route covers a very unique part of South Africa. This is the centre of sheep-farming in South Africa even though it may seem barren and flat. The Karoo also offers some of the best stargazing on the planet.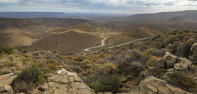 ©Roger de la Harpe
View of the Ouberg Pass.
Quiet and scenic, there is something for everyone here. While the towns may seem sleepy at first glance, it offers all the iconic Karoo charm - friendly local people, icy nights and perhaps the best lamb in the country.
The Karoo Highlands Route covers small Karoo towns such as Matjiesfontein, Sutherland, Fraserburg, Williston, Carnarvon, Loxton, Victoria West and Beaufort West and is commonly referred to as the Great Karoo.
The Karoo is the home of peace and tranquility where you can just relax and take in the wide-open spaces and windmills or explore the many small towns and surrounding attractions.
The Karoo Highlands Route offers culture, adventure and incredible natural beauty. It has many unique experiences such as stargazing, rock art, ancient Palaeo Surfaces, Anglo-Boer War sites, Karoo architecture and corbelled houses. Come here for lovely farm stays and great Karoo Cuisine, featuring world-renowned Karoo lamb and some of the warmest hospitality in the country.
Sheep farming is still the economic backbone of the Karoo, with other forms of agriculture established in areas where irrigation is possible. Lately, game viewing and tourism are also offered on many Karoo farms.