Day 1: Cape Town to Sutherland
Depart from Cape Town early and stop in the historic little village of Matjiesfontein for brunch. You can explore the village before departing for Sutherland.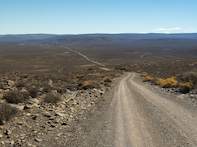 ©Roger de la Harpe
Dirt Road between Sutherland and Middelpos.
Developed around a railway siding, the little village became a popular health and holiday resort around 1844. It was home to a famous Victorian health spa, and many people with respiratory complaints flocked here for the region's untainted air. Among the many other fine Victorian buildings lining the main street are the Masonic Hotel, now the Losieshuis, Post Office, Village Office and the Laird's Arms, a Victorian country pub.
Arrive in Sutherland in the afternoon and enjoy a trail run or walk on the footpaths, or explore the town. You can end off your with a fire, braai and stargazing experience.