Day 2: Sutherland
Enjoy a simple farm-style breakfast before heading out on your choice of a variety of Sutherland activities, including trail running, mountain biking, birding or hiking.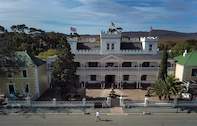 ©Eric Miller
Lord Milner in Matjiesfontein.
Go on a tour of the Southern Africa Large Telescope (SALT) and indulge in a traditional Karoo lunch in Sutherland. SALT is the largest single optical telescope in the southern hemisphere and among the largest in the world. The telescope has a hexagonal primary mirror array that is 11 metres across and comprises 91 individual hexagonal mirrors. You can go on a guided walk through the visitor centre and selected research telescopes, including SALT.
Late afternoon can be spent on the Ouberg Pass for sundowners. The Ouberg Pass is one of two passes that were used by pioneering farmers of the area to reach the Roggeveld. Enjoy the magnificent view from the top that gives you a panoramic view of the Karoo.
In the evening, you can join an astronomer for a night-sky viewing with a telescope.