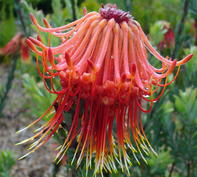 ©Cape Flora SA
The striking pincushion, Leucospermum retroflexum.
In South Africa, the production of indigenous cut-flowers for export is focussed mainly on proteas, Leucospermum, Leucadendron and 'greens', as well as a combination of these in bouquets. Bouquets are becoming more popular, especially in retail chain stores across Europe.
Production Figures and Top-sellers
In 2017 and 2018 just over 4.8 million stems of proteas were exported. The export for 2018 and 2019 is estimated to increase by 13% to over 5.4 million stems. These figures are for loose stems and exclude the number of stems in exported bouquets. On average, another 2.2 million stems are exported in the form of bouquets.
King proteas are consistently popular, with the protea cultivar 'Blushing Brides', 'Pink Ice' and Leucospermum cv. in succession are the top-three protea exports by volume (2018).
A total of 7.2 million stems of Leucadendrons were exported in 2017 and 2018. The top-seller was 'Safari Sunset' with its deep red foliage, selling over 900 000 stems.
The top seller pincushion is the orange-red 'Succession' selling more than 2.1 million stems during 2017/2018 with the apricot-coloured Ayoba Sun increasing from 300 000 stems to 1.2 million stems in one season.
Markets for South Africa's Indigenous Flowers
Marketing and sales of indigenous cut-flowers have changed over the years. Fewer flowers are sold in the traditional florist flower markets of the Netherlands and Germany and more flowers, in the form of bouquets, are sold into retail chains. The sale of fynbos bouquets in especially the UK supermarket chains has grown from almost non-existant to currently of the more important markets.
According to a report by Dr David Bek and Kathy O'Grady more than 1 million bouquets are exported (2018), doubling over the preceding five years. They also report on the growth in the local market for fynbos bouquets.
Europe and Russia are the main and traditional markets for Cape Flora, 48% of South Africa's exports, but the Middle East 27%, and United Kingdom 12%, are two other important export markets. Exports to the United States has declined from 4% to 3%, but exports to the Far East (e.g. South Korea and Japan) increased from 8% to 10%.
The popularity of specific flower selections is difficult to predict as it can take years to access and supply a market with enough flowers to sustain growth. Japan has a reluctance to flowers with 'eyes', while the UK's markets seem to prefer pink flowers.
Supply of Indigenous Cut-flowers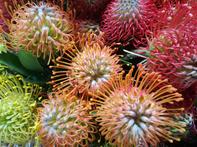 ©Marinda Louw
Pincushions in South Africa are all cultivated, not wild harvested.
Supply chains in the Cape Flora industry can be seen in three levels or tiers. Tier 1 are mostly flower suppliers who export directly and are mainly located near Cape Town International Airport. About 80% of 36 million stems (2016/2017) of fynbos, wild and cultivated, were exported by the top six Tier 1 suppliers.
Tier 2 are the flower suppliers, who buy and process fynbos but do not export directly. They use Tier 1 suppliers to access markets. Most of Tier 2 suppliers are located on the Agulhas Plain.
The Tier 3 suppliers include small processors and harvesting teams, who may supply into local markets directly and also supply Tier 2 or even Tier 1 operators. Tier 3 incorporates independent harvesting teams, many of whom are located on the Agulhas Plain, but also in Riversdal.
The supply of dried flowers is also mainly concentrated on the Agulhas Plain, but also in Ceres and Riversdal. Much wild-harvested fynbos is for the dried flower market. The bulk of greens and foliage are wild-harvested in an area reaching from Paarl to Kareedouw. Most of the harvesting of greens is on the Agulhas Plain in the Overberg. The Southern Cape (Riversdale) is the next most heavily harvested area.
Proteas are mainly cultivated in orchards along the Western Cape coastline, around Port Elizabeth and East-London up to KwaZulu-Natal. Leucospermums - 'pincushions' are all cultivated, while Leucadendrons for flowers/cones are cultivated, but often wild-harvested for their foliage.
By Marinda Louw