The Earth is a blue-green planet sustaining all life as we know it. Our home is filled with lush forests, vast deserts and beautiful landscapes of nature. Currently, it is being invaded by catalyzed climate change caused by human activity such as pollution.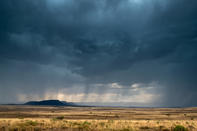 ©Peter Delaney
A brewing storm over Mountain Zebra Park, South Africa.
Environmental studies broadly encompass Earth processes, surface and atmospheric dynamics, Earth system history and ecology.
Scientists work to learn as much as possible about how climate change affects the Earth and our environment to better understand the severity of global warming and human intervention on the environment.