Learn all about climate change in South Africa. Although climate change is a natural occurrence, human industrial and development activities over the past two centuries have caused changes in climate independent from natural changes. Climate change is a slow, natural cycle that causes the earth's temperature to rise and fall periodically over centuries.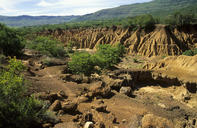 ©Roger de la Harpe
Soil erosion caused by climate change in South Africa.
Human intervention, however, has sped up the process and has had catastrophic effects across the globe. All ecosystems and biodiversities are threatened by climate change and its effects are remarkable on all life. Climate change has a profound impact on human life - it influences temperatures shifts, food security, water resources, greenhouse gasses.
This is not a list of impacts we can expect to see as our climate shifts. Rather, it is an opportunity to introduce you to some of the real people of South Africa who will be expected to live through these climate change in South Africa shifts. Some of these people may even be stripped of their livelihoods as a result, even though their contribution to the pollution which causes the problem is close to negligible.