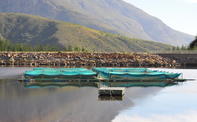 © Henk Stander
A cage system for trout farming in Stellenbosch's Jonkershoek Valley.
Freshwater fish farming in South Africa is defined by the term 'aquaculture' and describes the process of producing fish for food in freshwater systems such as dams, open and indoor ponds, recirculation systems and tanks.
Freshwater aquaculture is skill and capital intensive and challenging due to South Africa's temperate climate. Yet, freshwater aquaculture has the potential to grow through excellent aquaculture technology and linking up or consolidating South Africa's many small-scale farmers to produce commercially viable volumes.
Together with consumer education about freshwater fish species and clear government policies, the industry has the potential to grow and provide both quality protein and sustainable jobs. The main food fish species produced in South Africa include trout, tilapia, marron (freshwater crayfish) and to a small extent, catfish.
This series on aquaculture by SouthAfrica.co.za is translated into all eleven official South African languages to educate and empower the people of South Africa on the potential of freshwater Aquaculture.