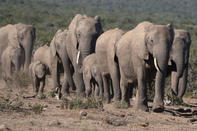 ©Peter Delaney
Wildlife, big or small are having to make adaptions to climate change.
South Africa is blessed with an abundance of wildlife from various ecosystems. As the environment around the animals change, due to due global warming, species need to adapt to survive. This leads to occurrences such as migration, increased mortality rates and ultimately, extinction.
As the endangered geometric tortoise becomes more and more endangered, the curlew sandpiper migration process changes to adjust to increased temperatures. Globally, climate change has changed the patterns of natural development of various species - from the shrinking habitat of the polar bear to the temperature influence on the sex of reptile eggs, these changes will become more pronounced in years to come.