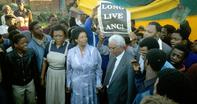 © Eric Miller
The First Meeting
Albertina Thethiwe first met Walter Sisulu when she was working at Johannesburg General Hospital in 1941. He was a young political activist at the time. She often accompanied him to meetings of the Congress Youth League.
She was the only woman who attended these meetings although she did so in a supportive capacity, not really seeing herself as a member. Walter teased her about it years later saying, "Admit it my dear, you only had eyes for your boyfriend".
Walter Proposes
The two were strolling the streets of Johannesburg on the day he proposed. Walter took her hand, looked at her and asked her to marry him. From the moment they met he was so taken with her that they were only courting for a short time before the question of marriage came up. He was not prepared for her response.
She told him that before they considered marriage there was something he should know about her. He asked her what it was and she replied that she had children. He was so taken aback that he dropped her hand. "How many?" he asked her. "Three." she said. This had his mind racing. Marrying a woman with children was considered a social stigma.
Trying to keep his head he timidly asked her how old they were. That's when she explained that she assumed responsibility for her three younger siblings after her parents died. Walter was impressed. He promised to share the responsibility with her when they got married and he did not disappoint. Not long after that he invited Albertina's brother to come to Orlando East to finish his schooling.
South Africa's Great Love Story
Albertina and Walter married in 1944 with Nelson Mandela as the best man. They had five children of their own (Max Vuyisile, Mlungisi, Zwelakhe, Lindiwe and Nonkululeko) and adopted four others. In 2003 Walter died in his wife's arms.
They had been married for 59 years. At his funeral, their granddaughter read this tribute to him on her behalf:
Walter, what do I do without you? It was for you who I woke up in the morning, it was for you who I lived ... You were taken away by the evils of the past the first time, but I knew you would come back to me. Now the cold hand of death has taken you and left a void in my heart.
The relationship of the Sisulu's is often considered as one of South Africa's great love stories.