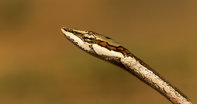 © Roger de la Harpe
Name
Southern Vine Snake, Twig Snake or Bird Snake (Thelotornis capensis capensis)
Class
Reptilia
Order
Squamata
Family
Colubridae
Description
Female southern vine snakes are 975 mm in length, whereas males measure 1062 mm. Its body is very thin and its tail long. The head is spear-shaped, and its eyes large with pupils shaped like a keyhole. It is light brown in colour, similar to that of a twig. The mid body is covered by 19 slanting rows of soft scales.
Diet
The twig snake's diet includes a variety of foods, from lizards to frogs, small birds and other snakes, at times.
Venom
This snake kills its prey with a venomous bite, and swallows it whilst hanging downwards.
Breeding
During summer, females lay four to 18 small eggs of an elongated shape. She can lay two clutches of eggs per season. The eggs hatch in March after 60 to 90 days of incubation. At birth, the young measure 230 to 331 mm in total length and weigh 3 to 4 grams.
Distribution
The southern vine snake can be found in Southern and Eastern Africa. In the Central and West African rainforests, they have been replaced by the Thelotornis kirtlandii species.
Field Notes
Because of its similarity in appearance to twigs, the southern vine snake is also known as the twig snake. In some areas it is named the bird snake due to its occasional habit of eating small birds.
Subspecies
Three races of subspecies have been recognised.