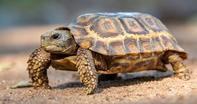 © Tyrone Ping
Name
Speke's Hinged-back Tortoise (Kinixys spekii )
Class
Reptilia
Order
Testudines
Family
Testudinidae
Description
Males and females measure 140 to 160 mm in length, this tortoise is medium in size. The shell of a young Speke's hinged-back tortoise has a zonary pattern with square-shaped light and dark lines. These patterns may remain during adulthood for males, but the darker zones split up in the patterning of adult females' shells. The carapace of the shell is slightly sunken and the hinge well developed.
Diet
The Speke's hinged-back tortoise's diet contains a variety of foods including pill millipedes, beetles, mushrooms, giant land snails, syzygium and other fruits.
Breeding
Clutches of eggs can vary from two to six eggs.
Distribution
The Speke's hinged-back tortoise can be found in South Africa in the North West and Limpopo Provinces, along the Lowveld to Swaziland and the coastal plains of Mozambique. They also occur throughout Zimbabwe and the savannas of Central and East Africa.