The Perfect Soil
Most people don't know this, but vineyards cannot just grow anywhere. Sure, you can plant them, but the key behind successful grape cultivation lies in the soil. If the soil does not thrive, neither will the grape.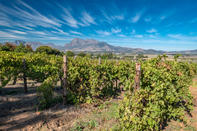 ©Chris Daly
Western Cape grapes grow well due to the soil content.
Vineyards are delicate pockets of land that need careful tending to and lots of farming love. That's the only way the little grape will grow to become the delicious alcoholic beverage it was always meant to be.
Typical vineyard soils are composed of either sandy or rocky bases. An added bonus would be good water-retention properties and a yellow to reddish colour. South Africa's soils are extremely diverse - the types you'll find on the West Coast will differ greatly, from that of more Northern inland areas.
In the Western Cape wine region, there are three types of soil: Table Mountain Sandstone, which is sandy with low nutrients and water-retention properties; Granite, which is reddish, acidic, and found on mountain foothill slopes; and Shale, which is strongly structured with good nutrient reserves. These types of soils are near-perfect for vineyards; that's why the Western Cape is the home of the grape. Northern areas have vineyard soils that consist of more river deposits and gravel, while the Southern Coast is made up of ancient sandstone with coarse pieces of silica quartz that are rich in iron.
The more diverse the soil, the more diverse the wine! Thanks to SA's variations of soil, there is a wide range of wine varieties being produced around the country, from the easy-going Chardonnay, through the intense Tinta Barocca to the sweet Muscadel. New vineyard plantings spring up all the time in different provinces, and the viticulture industry in South Africa is growing exponentially.