This 38 000-hectare, big five park on the Waterberg Plateau hosts a number of fine lodges. It boasts more than 50 species of mammals, including brown hyena, aardwolf and aardvark, while the grassy plains teem with antelope.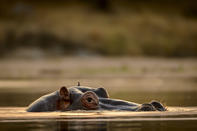 ©Roger de la Harpe
A common Hippo (Hippopotamus amphibius).
Birders can expect over 250 species, including the rare blue crane. There has never been hunting in the reserve, so the wildlife is relaxed, ensuring excellent sightings. Welgevonden has more than a dozen lodges to choose from.
By Justin Fox