Town on the Kokerboom Food and Wine Route
The town of Kenhardt is situated 75km south of Keimoes on the R27 towards Brandvlei and Calvinia. Ideal for a visit while on the Kokerboom Food and Wine Route in the Northern Cape.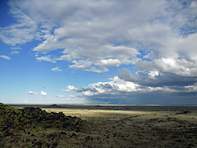 ©Lourie Pieterse
Kenhardt landscape view from Stofbakjes Farm.
Kenhardt is situated along the Hartbees River, which is a tributary of the Orange River. The origin of the name 'Kenhardt' is obscure, but it is known that the town started as a police outpost in December 1868. It was the result of a special magistrate and a company of 50 mounted police pitching their camp under a giant camelthorn tree. Their purpose was to protect white farmers from cattle rustlers and Koranna Khoe raiders, the original inhabitants of the land. For many years the village of Kenhardt was the most remote settlement in the north-western Cape Colony.
A church was established by the Dutch Reformed Church in 1889. Kenhardt's main economic activity is sheep farming (dorpers and karakul), but wheat is cultivated along the courses of the Hartbees, Sak and Olifants Rivers.
Kenhardt Attractions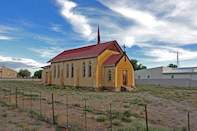 ©Lourie Pieterse
Kenhardt Old English Church.
The historic 600 year old Camelthorn Tree: The camelthorn tree under which special magistrate Maxmilian Jackson and his 50 mounted police started camp in 1868 is still there. It is now 5 to 6 centuries old and has been declared a national monument.
The old library building was constructed in 1897 and used until 1977. It was declared a national monument in 1978.
A fenced War Memorial marks the site where two Cape Afrikaner rebels were executed during the Anglo-Boer War.
The San Trail of the San takes you on an exclusive guided tour through several hills where San engravings occur.
Quiver Tree Forest and Hiking Trail: About 8km south of Kenhardt on the R27 to Calvinia and Cape Town is a large "Kokerboom forest" comprising about 700 quiver trees.
Verneukpan is a vast dry pan south of Kenhardt where Sir Malcolm Campbell tried to set a new world land-speed record in 1929 in Bluebird 1. It has been the site of repeated attempts at the record and some with tragic consequences. It is also a famous venue for festivals.
The Kokerboom Food and Wine Route embraces the towns and settlements of Keimoes, Kanoneiland, Kenhardt, Augrabies, Upington and Marchand. The Kokerboom (Quiver tree) is a botanical symbol of that part of the world...
more