Kalahari Hideaway
Kenhardt is a small Northern Cape town in the Kalahari. The town is at the heart of the Dorper sheep farming area. The town and surrounds offer an exclusive San trail, a guided tour which will take you through several hills where San engravings can be seen.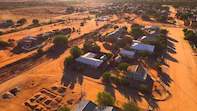 Aerial view of Kenhardt.
Less than 10 kilometres along the main road from Kenhardt to Verneukpan is a forest of almost 5 000 quiver trees (Aloe dichotoma). Amble among them and find one to recline against, then peer over the sweltering plains of the Northern Cape.

Visit Kenhardt in flower season (June to August) and you might find peace, but no quiet, as birds and insects are attracted to the sweet nectar of the small yellow flowers.
The town of Kenhardt is situated 75km south of Keimoes on the R27 towards Brandvlei and Calvinia. Ideal for a visit while on the Kokerboom Food and Wine Route in the Northern Cape....
more