Proactive Programs
When you purchase a bottle of wine, not much thought goes into how it was made - the harvesting process, crushing the grapes and adding yeast for fermentation, amalgamating to create tasty grape alcohol. But somewhere along the line, the thought of ethical and sustainable farming practices, social responsibility and eco-friendly implementations in wine making were forgotten.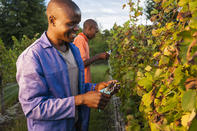 ©Roger de la Harpe
The upliftment of the farming community is an important part of sustainable farming.
Now, more than ever before, South Africans are adhering to global eco-trends: recycling, eating organic foods, opting for hormone-free meat, saving water, going vegan, supporting sustainable farming and reducing waste. When it comes to turning grapes from the vine into delicious vino, it's no different.
It comes as no surprise that many SA wine farms have started implementing sustainable farming practices as much as possible. These farms aim to have a positive impact on the social, environmental and economical segments of farming.
This involves proactive programs put in place to uplift the farming community, protect the natural environment and practice ethical business. Being a 'sustainable' farm is thus far more complicated than simply being eco-friendly - it's a lifestyle that affects the whole farm, it's production chain, management and employees.
Knowledge is Power
Sustainable wine farming allows for the natural environment to be protected from human activity that might hinder ecosystems. For example, some vineyards on the South Coast of the Western Cape are located next to the Kogelberg Biosphere, which is a protected area of fynbos. Many of the farms in the region have set aside hectares of their farm as conservation land, committing to restoring it back to its original nature. It's vital that these farms adhere to sustainable production, as they are the custodians of precious natural life.
So, why should you care about where your wine comes from and how it was made? It's a complex question, but it's an important one - as the climate of the country changes due to natural cycles, it is, however, heavily influenced by human activity. Some activities are destructive to various ecosystems, so it's of great importance that farms invest time and effort into ensuring their practices are as environmentally sensitive and sustainable as possible.
There are various associations in South Africa that certify or accredit wine farms based on their sustainability. The Wine and Agricultural Ethical Trading Association (WIETA) promotes ethical trade in the wine industry; Sustainable Wine South Africa (SWSA) is a partnership between the Wine and Spirit Board (WSB), the Integrated Production of Wine (IPW) scheme and Wines of South Africa (WOSA) that actively works to promote sustainable wine farming; and Fairtrade International is a global project that works with wine farms that are in line with their economic, social and environmental standards.
Knowledge is power, so next time you go shopping for wine, look out for a sticker with a green protea emblem on the neck. It states: 'Integrity & Sustainability Certified', which guarantees that the wine has been made with care in regards to the environment and the farming community. Be aware of wineries that follow fair labour practices (their websites will definitely state it) and work towards lowering their carbon footprint, because they are the future of the SA wine industry.