Unforgettable Adventure
Tourists wanting to experience the beautiful scenery of South Africa can embark on an unforgettable adventure as they zipline from one platform to the next along a series of steel cables set amongst magnificent natural surroundings.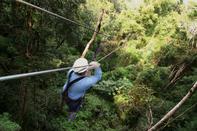 ©Jacques Marais
The Tsitsikamma forest was the first area to introduce tree top canopy tours to South Africa.
There are seven unique locations in the country that offer canopy tours, set within indigenous forestry. If you're a bit uneasy about the height, the tour can be completed in tandem, and trained guides will accompany to ensure your safety.
Canopy tours can be enjoyed by people of all ages, nature lovers, families and thrill seekers alike.
Unique Locations
There are seven locations in South Africa set within beautiful natural landscapes where you can enjoy a tree top canopy tour. The indigenous rainforest of Tsitsikamma near Knysna on the Garden Route is a majestic natural wonder, filled with big yellowwood trees and splendid valleys of lush greenery.
This is where the first tree top canopy tour of South Africa was developed, and is an ideal destination for adventure-seekers. The forest ecology is quite spectacular, and you'll be able to spot birdlife such as Knysna Loeries and Narina Trogons. The tour consists of 10 platforms and 10 slides, the longest of which is 100m. The sheer beauty of the area will entice any tourist to return time and time again.
Another great spot is Karkloof forest in the KwaZulu-Natal Midlands, which put emphasis on the fauna and flora of the area, which the trained guides will happily point out to tourists. The eight slides passes over the beautiful Karkloof valley, as well as a waterfall. What's not to love? KwaZulu-Natal's other premier tour is set within the indigenous forest of the Central Drakensberg, which has a good mix of both cliff face and treetop platforms. Enjoy a unique birds-eye view on the world around you.
In Limpopo, the Magoebaskloof offers tours in the forest with ancient mountain cliffs, overlooking the spectacular Groot Letaba River gorge. The tranquility of the scenery is not to be missed. Malolotja near Swaziland is another beautiful tour with striking rock formations, towering cliff faces and views across the lush forest canopy.
The canopy tour in Magaliesberg in the North West province is set against magnificent cliffs overlooking the Ysterhout Kloof. Here, you'll mostly be gliding above trees instead of through them, but tourists will still get a gorgeous view of the indigenous plant life.
Lastly, tourists can experience Cape fynbos panoramas and mountainscapes of the Elgin Valley near Grabouw via zipline. The quality of the structure and equipment is reassuringly high.