There are close to forty cattle breeds from which farmers can choose in South Africa. These South African beef breeds differ in terms of size, build, adaptability to different climatic and production environments, resistance to certain pests and diseases, reproduction, parenting abilities, as well as meat quality and carcass yields.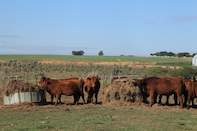 ©Glenneis Kriel
South African beef breeds are varied throughout the country.
On top of this, there may also be a huge variation between individual animals within specific breeds, due to production conditions or the genetic and physical make-up of an animal.
For the best results, farmers should choose a beef breed or the breeds, if they will farm with more than one, that will thrive under their production environment and system, and buy the best genetics they can afford of these breeds.