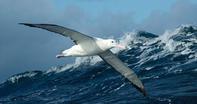 South Africa is a fantastic place for ticking off seabirds. As well as the many Gulls, Gannets, Terns and Cormorants who have their permanent home here, we have a huge population of the endemic and adorable African Penguin.
This endangered, flightless bird nests on pretty inaccessible offshore islands but can be seen in one of two mainland colonies near Cape Town, and also on Robben Island.
There are many spots where you will see an awesome number of seabirds and waders, but the West Coast is hard to beat. All the way up this coast, there are estuaries, lagoons and wetlands just teeming with waders and seabirds, especially when the summer migrants arrive. Good spots to try include Langebaan Lagoon, Verlorenvlei, Rocher Pan, Bird Island, and Velddrif.
Even more exciting, though, is the opportunity to see a whole range of Arctic migrants, and even a few unusual vagrants, just off the coast of Cape Town. Charter a boat to go off Cape Point (which is, incidentally, spectacular from the sea), where you may see a number of species of Albatrosses, Petrels, Storm Petrels, Shearwaters, Skuas and tropic birds.
The cute and comical rockhopper penguin is a fairly frequent vagrant, and even macaroni and king penguins have dropped in for a rare visit. Visitors are definitely in for a treat when viewing the array of seabirds in South Africa.
Interestingly, towards the end of June or beginning of July, there is an enormous migration of sardines up the east coast along the Wild Coast as far as Durban. As well as the many Dolphins and Sharks that follow the shoal, there are numerous seabirds, many of which are not usually seen that far north.