The Route of Lost Kingdoms stretches from inside the gates of the Kruger National Park at the ancient stone wall site of Thulamela, follows a trail of myths and legends to the Mapungubwe World Heritage site and onwards to the small town of Alldays.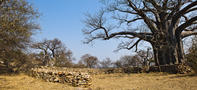 ©Roger de la Harpe
Thulamela Cultural Site near Punda Maria Site.
The Route of Lost Kingdoms gives tourists the opportunity to explore this undiscovered region in the north of South Africa, bordering Botswana and Zimbabwe.
Thulamela is a stone-walled site situated in the Far North region of the Kruger Park and dates back approximately 450–500 years. This late Iron Age site forms part of what is called the Zimbabwe culture, which is believed to have started at Mapungubwe.
One thousand years ago, Mapungubwe was the centre of the largest kingdom in the subcontinent, where highly sophisticated people traded gold and ivory with China, India and Egypt. The Iron Age site, discovered in 1932 but hidden from public attention until only recently, has been declared a World Heritage Site by the United Nations Educational, Scientific and Cultural Organisation (UNESCO).
Mapungubwe (meaning 'hill of the jackal') first attracted attention in modern times when gold beads, bangles, bowls and figurines were discovered on the summit. Since then Mapungubwe has been excavated and once again there is evidence of an extensive African farming society, based on cattle keeping with agriculture, but in this case with trade playing an increasingly important role.
The Route of Lost Kingdoms passes through both these ancient sites while giving visitors the opportunity to explore the lifestyles of people living in the region today.
Rural life can be hard and people have adapted in many different ways to the arid bushveld environment. Take the time to visit some of the villages and meet the people of this ancient land. You will also have the opportunity to see many baobabs as they line the roads and can visit the biggest recorded baobab in the world that is believed to be approximately 3 000 years old.