The creation of the Mapungubwe National Park is found in the northern part of South Africa's Limpopo province. The area has a rich biodiversity, great scenic beauty and is of great cultural importance due to the archaeological treasures of Mapungubwe.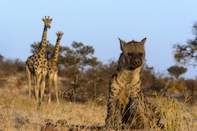 ©Roger de la Harpe
Hyena and Giraffe spotted at Mashatu Game Reserve.
Mapungubwe National Park comprises the Mapungubwe Cultural Landscape and the Mapungubwe World Heritage Site and is located at the confluence of the Limpopo and Shashe Rivers.
Mapungubwe National Park has outstanding botanical, ecological, geological and geomorphological merit, with a range of vegetation types associated with the outcrop of cave sandstone, baobab trees, Karoo fossils and ancient rocks nearly three billion years old. It provides a sanctuary to endangered large mammals, such as the black and white rhinoceros, wild dog, and the continent's flagship species, the African elephant.
The famous Golden Rhino along with artefacts, glass beads and pottery was unearthed from Mapungubwe National Park and is evidence of the capabilities of the people of that time in both mining as well as art.
Another significant cultural site found on the route is Thulamela. Thulamela is a Venda word, meaning place of birth. The site consists of stone ruins of the royal citadel and dates back to between the 15th and 17th centuries.
According to oral histories, the Nyai division of the Shona – speaking Lembethu occupied Thulamela and believed that there was a mystical relationship between their leader and the land. They believed that the ancestors of the leader (or Khosi) would intercede on behalf of the nation.
The Khosi, who was an elusive figure and could only be seen by certain individuals, lived in a secluded hilltop palace in view of the commoners as an indication of his sacredness. The site is located inside the Kriger National Park, a short drive from the Pafuri Gate.
In addition to the cultural sites, there are opportunities for good game viewing at the Kruger National Park, The Mapungubwe National Park or many of the private game reserves in the area.
The area is synonymous with Baobab trees and many fine specimens can be spotted along the route. All baobabs are deciduous trees ranging in height from 5-20m. The baobab tree (also referred to as the upside-down tree) is a strange looking tree that grows in low-lying areas in Africa and Australia. It can grow to enormous sizes and carbon dating indicates that they may live to be 3,000 years old.