It's no secret that the best romantic holiday is filled with quintessential couple things: romantic atmospheres, idyllic sunsets, fine dining and cosy couple activities.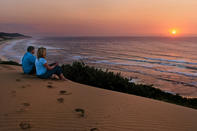 ©Roger de la Harpe
Watching a beautiful sunset over the ocean should definitely be part of your romantic getaway.
Lovebirds have an endless range of romantic getaways to choose from in South Africa. If you're looking for a leisure vacation on the beach, a romantic bushveld safari, an outdoor adventure or a cultural trip, the country boasts charming and beautiful destinations in every province that will have you feeling all the love in the air.
Whatever your itinerary is, the beauty of Mzansi will only enhance your trip - it will provide a gorgeous backdrop to your romance, filled with endless days of sunshine, happiness and celebration.
Seaside Romance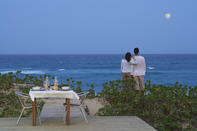 ©Roger de la Harpe
There are various romantic coastal destinations in KwaZulu-Natal.
If your partner is a sucker for beautiful coastal scenery, you're in luck! South Africa has a plethora of quaint beach guest houses, hotels, nature reserves and b&b's along the coast that offers true romance by the ocean.
On the West Coast, couples can reside in cottages right on the beach that allows for a stretch of coastline all to yourselves. If you're the adventurous kind, you can take part in a range of oceanic activities, such as boat rides, sea kayaking and shark cage diving.
Lambert's Bay is the best spot to enjoy a scrumptious seafood dinner while you watch the sunset over the glittering water, and Langebaan has a range of watersports such as surfing, snorkeling and canoeing to enjoy.
In Cape Town, you can expect nothing but luxury if you choose to reside in an up-market hotel at the Waterfront, Camp's Bay or Clifton. You can enjoy a relaxing couple's message and 5-star dinners with gorgeous views of Table Mountain and the Atlantic ocean. Explore the city centre, dine on exquisite local food, go for a hike up Lion's Head or simply relax on the beach - Cape Town is the ultimate honeymoon spot.
Further down the east coast, the Garden Route offers a romantic escape from the busy city life into nature. Seaside towns such as Hermanus and Kleinmond offer scenic activities such as walks through nature reserves, bird watching, horse riding and whale watching. If you are a nature-enthusiast, book a chalet in Knysna and enjoy the lush natural beauty of the area. The lagoon and estuary are home to incredible birdlife, so bring along your camera and binoculars and relax in the splendid indigenous nature of the coast.
In the Eastern Cape, you can celebrate your love with a romantic stay in the coastal Tsitsikamma forest, fit for the adventurous couple - there are multiple mountain biking and hiking trails to explore.
KwaZulu-Natal is a playground for all honeymooners. It's home tropical beaches, extensive cultural significance, breathtaking landscapes and a range of activities that makes the province a very popular destination.
Go snorkeling at Thonga beach or St Lucia, followed by a cocktail as you take in the coastal scenery; enjoy a cosmopolitan stay in Durban, indulging in local cuisine and lots of surfing, or head further up the Wild Coast for a true oceanic escape.
Love in the Bushveld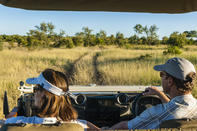 ©Roger de la Harpe
A couple enjoying a game drive at a game reserve in Limpopo.
Nothing says 'true romance' like being surrounded by the sounds of the bushveld as you and yours relax on a deck with a bottle of wine and a view of various wildlife visiting a drinking hole.
There are numerous luxury safari lodges, tented camps and private game reserves in the country that place emphasis on the romanticism of a South African safari. You'll have the honeymoon suite all to yourself, which comes with extra amenities such as private dining, game drives and couple's spa treatments that will send your romantic retreat over the edge.
The Kruger National Park in Mpumalanga is the hub of Mzansi's romantic safari experiences - you have an endless choice of luxury destinations to choose from.
In KwaZulu-Natal, the Drakensberg offers a lovely romantic stay in a truly unique natural environment. You'll be surrounded by mountain ranges, valleys and riverines that are ready to be explored. It's a picture-perfect setting that's ideal for adventurous honeymooners who want to hike, mountain bike, swim and discover the area's secrets.
If you are into arid, desert-like spaces, the Karoo is the perfect romantic destination for you. The Northern Cape has wonderful guest houses with friendly locals who will gladly guide you through the region and its amazing fauna and flora.
Other Top Spots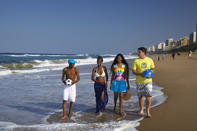 ©Roger de la Harpe
Umhlanga is a popular honeymoon destination in KwaZulu-Natal.
There are various popular destinations that locals and tourists alike list as their top romantic getaways. The Magliesberg in Gauteng is a sought-after area that honeymooners visit to experience tranquility in the bushveld. There are large hotels with luxury amenities as well as quaint guest houses with a countryside atmosphere.
Margate, Umhlanga Rocks and Ballito on the KwaZulu-Natal coast are top picks for couples wanting to relax by the warm, tropical waters of the Indian Ocean. It is a great starting point from which lovebirds can travel throughout the province and see the country's heritage at numerous Zulu villages, explore the Battlefields Route and delight in the wonderous natural greenery.
The Western Cape has many special spots to rekindle the romance between you and your partner. Head out to the Cederberge for a one-of-a-kind nature experience, where you can stay in luxury while exploring historical San people sites and see the wildlife of the region.
Grootbos Private Nature Reserve is another winner, surrounded by ancient milkwood trees and fynbos forest. Horse riding, botanical safaris and spa treatments are on offer.