Dwindling Populations
When the Kruger National Park was originally proclaimed, several native species were on the verge of local extinction. Over the course of the next 50 years, some of these populations did indeed die out, either as a result of disease or because the breeding population was unsustainably small.
©Roger de la Harpe
Oribi (Ourebia ourebi).
One of the first species to be re-introduced to the park was the Black (or Square-lipped) Rhino. This elusive and solitary animal became extinct in the Lowveld in the 1890s and, in 1961, several specimens were translocated from the Umfolozi reserve in Natal. A number of oribi were also moved from the Badplaas area to an enclosure at Pretoriuskop, with limited success.
In 1963, 14 white rhino were brought into the park, the first to live in the area since the 1930s. Four red duikers were also released into the thick bush around Pretoriuskop. Numerous other species have been periodically brought into the park, or relocated to different districts of the park, to bolster sagging populations.
Common Exports
©Shem Compion
Hippo in pool.
In exchange, the Kruger National Park has been a generous supplier of game to zoos and game parks, both in South Africa and around the world. Zebra, hippo, elephant, white rhino and wildebeest are among the most common exports. In addition to direct animal sales, regular wildlife auctions take place around the country.
These are big business and generate crucial conservation revenue. Disease-free buffalo are particularly valuable and can fetch millions of rand each (the record price is R168 million for a single bull, paid by a consortium of investors in 2016). The members of the Big Five are also highly prized, as there is stiff competition between the various game reserves for the best specimens.
The Animal Abattoir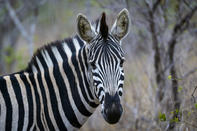 ©Roger de la Harpe
Burchell's Zebra (Equus quagga), Kruger National Park.
Surprisingly, the Kruger National Park also contains an animal abattoir. This unpleasant facility is actually located on the outskirts of Skukuza rest camp, but its activities are shrouded by an air of secrecy. In years past, when culling was more widespread, the abattoir was kept very busy processing the hides, tusks and meat from animals that were killed in the line of duty.
Zebra, elephant, buffalo, wildebeest, impala and hippo all went on the chopping block at one time or another, and their by-products found their way into curio shops and dog food tins across the country. In a way, perhaps, we have come full circle and returned to an idiom where wildlife is a commodity. But at least this time the animals are being accorded their proper value while still alive.
By
David Fleminger