Safari Near Sun City Resort
Adjacent to Sun City Resort gaming halls is a reserve that can restore sanity to even the most diamond-eyed card shark. Pilanesberg is the North-West Province's most popular park, and rightly so.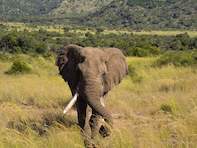 It's within two hours' drive of Johannesburg and Pretoria, is well appointed and malaria free. It's a sizeable chunk of pristine Bushveld and apart from the Big Five it's got hippo, giraffe, cheetah, wild dog and an enormous variety of birdlife.
Like a fortress of ancient, volcanic rock, the Pilanesberg rises from bushveld plains. The first thing that strikes you when entering the park is its remarkable terrain, more so after soaking summer rain when the land is transformed.

Viridian-green hills, red-boulder koppies, blue lakes and tall sourveld: it looks just like the Masai Mara before the wildebeest have mown it. "Even though the grass was as tall as an avenue either side, the road itself produced plenty of minnow viewing: a slow-legged chameleon crossing, fast-legged three-banded plover mums with kindergarten and many-legged shongololo traffic. And despite the long grass, the Big Five did materialise."