Rising out of the ancient landscape Sun City Resort and the Lost Palace "Africa's kingdom of pleasure", is a destination resort in South Africa featuring luxury Sun City Resort hotels, exciting entertainment centres, non-stop casinos, alluring restaurants, a slew of shops and party venues, and a sandy, tropical beach front at the Valley of the Waves.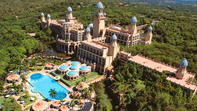 The whole opulent extravaganza set in luxuriantly landscaped grounds. For the finishing touch there's the 'safari experience in the adjoining Pilanesberg National Park, a mere 4km from Sun City Resort.
Everything you need for an exciting South African family holiday can be found at these Sun City Resort accommodations.