Inland Traversing
There are numerous adrenaline-filled, fun outdoor adventures to embark on in South Africa. All provinces offer a range of activities that will entice all outdoor thrill-seekers, from mountain biking and hiking trails to paragliding and bungee jumping.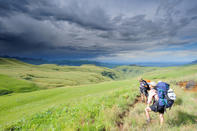 ©Shem Compion
The inland areas of the country have stunning mountain ranges, valleys, riverines, grasslands, bushveld and desert landscapes that are waiting to be explored.
You can rent a mountain bike (or bring your own!) and explore the gorgeous natural environment of the country, combining other activities such as game spotting and birding watching with your ride. You can also visit historical sites while on the bike that will give you insight into South Africa's natural history.
The most popular spots to mountain bike are: the Overberg region in the Western Cape with farmlands and gravel terrain; the Drakensberg in KwaZulu-Natal with technical rides through lush greenery and mountain trails; the Garden Route that showcases indigenous coastal forestry, Mpumalanga trails with natural historical scenes and the Northern Cape's arid desert with sandy terrain.
If you are into traversing through nature or discovering natural places at a leisurely pace, South Africa has a variety of multi-day hikes, day hikes and nature walks that holiday-makers can enjoy.
KwaZulu-Natal has grassland and wetland walks that bring you up close with the indigenous fauna and flora, while the Western Cape offers many mountain-based trails with incredible views of valleys and rivers. The Eastern Cape has multi-day adventure routes to tackle, and the Limpopo province allows hikers to discover beautiful natural scenery.
Safari Experiences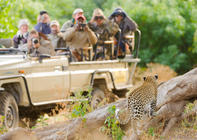 ©Shem Compion
A safari in South Africa combines relaxation with unique game spotting opportunities.
For the holiday-makers wanting to get close to South Africa's famous animals, a safari is the ultimate experience. You can combine game spotting with luxurious lodging and spa treatments, so it's definitely an opportunity not to be missed.
Spend your days lounging by the swimming pool while you watch elephants pass by, or embark on a game drive and spot the famous Big 5, and other animals such as giraffes, cheetahs, zebras and antelope in their natural habitat.
The Kruger National Park in the Mpumalanga province is the most popular and most luxury safari destination, while game reserves in KwaZulu-Natal, Eastern Cape and Western Cape have awesome game spotting experiences. It's all about combining nature and luxury, so booking a safari will get you the best of both worlds.
Relaxed Rides
©Shem Compion
For the high-flyers, the Western Cape has a large paragliding community where you can soar over the cityscape and ocean. There are bungee-jumping opportunities in the Eastern Cape and Gauteng provinces, and hot-air balloon rides are popular in KwaZulu-Natal and Mpumalanga. Seeing South Africa from up above gives you a very different perspective of the country's scenery.
If you are enjoying your holiday at a more relaxed pace, boat rides are the perfect way to see nature in a calm atmosphere. St Lucia Wetland Park in KwaZulu-Natal is surrounded by estuaries and lakes that offer boat rides for those wanting to see area's unique birdlife, and throughout the Eastern Cape there are various rivers to explore via a boat.