Vintage Vino
South Africa has a rich wine history that dates back to the 18th century. The interaction between ancient soil, the country's unique terroir and intimate vine care has allowed for a number of old vineyards to thrive and be preserved centuries later.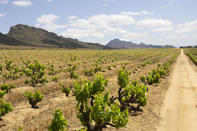 ©Marinda Louw
Old vines in Piekenierskloof, Western Cape.
South Africa's wine heritage adds to the country's diverse agricultural practices and its international reputation as a top-quality wine producer.
As an avid wine connoisseur or even beginner vino-lover, you might be asking yourself, "what exactly are old vines?" You might have seen it on a wine label, or heard wine snobs talk about how old vine wines are better than new vines, blah blah blah… but what is the big deal?
What Makes Old Vines Special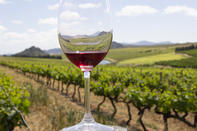 ©Marinda Louw
Old vines produce wines with a more intense flavour.
Old vines are vineyards that are more than 35 years old. In 2018, it was estimated that South Africa has a total of 94 545 hectares under vineyard, with 3505.23 hectares known as 'old vines'. These vines have lived a longer life than the average human being, and of course, the grapes they carry are slightly different than those of newer planted vineyards.
Although there is no legal definition of what an old vine is, it will largely depend on the specific country of origin. South Africa's old vines are different to those of France or America, so an individual region will have old vines particular to them.
Old vines are an important source of knowledge for scientific research, and enhances our understanding of plants and the aging process of vines. A typical vine can, if tended to correctly, produce grapes for up to a whopping 120 years.
Yields gradually decrease over time, and climate plays a big part in the vitality of the vine - if a drought strikes or it snows an unusual amount, it will heavily influence a vine's production of grapes.
As the vine ages, it will produce less grapes, but they will be of higher quality, with a more intense and concentrated flavor - hence the idea that old vines make much better wines! An old vine wine will thus have a more intense taste, with a bold flavor, soft tannins and high acidity.
Old Vineyard Blocks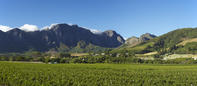 ©Roger De La Harpe
Franschhoek has some old the oldest vineyards in South Africa, dating back to the 19th century.
South Africa is home to various vineyards and farmlands that have vines older than twenty years. As we started making wine in the late 18th century, you'll find a number of vintage grapes around the country that produce excellent old vine wines. They are almost exclusively situated in the Western Cape, as the newer regions of SA winemaking (KwaZulu-Natal, Northern Cape and Eastern Cape) have vines that are only 15 to 5 years of age.
The Cape Winelands of Franschhoek, Paarl and Stellenbosch have the oldest vineyards of SA. Other old blocks can be found on the West Coast in Swartland and Vredendal, and inland regions include Wellington and Breedekloof. There are various old bush vine vineyards in the Cape Winelands that produce vintage Sauvignon Blanc with a great aroma; and the coastal region has old blocks of Chenin Blanc and Cinsaut that dates back to 1751.
The wine estates that house old vineyards take pride in their heritage and the importance of old vines. They focus on the conservation and protection of the vines, ensuring that they withstand drastic climate change such as drought.