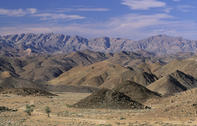 © Nigel Dennis
Seasonal cycles alter the landscape of the Richtersveld National Park, Northern Cape.
The cycles of the earth and its environment is in constant flux. Climate has changed more times than you can count on both hands. Species have moved and colonised since the dawn of life. Humans have simply accelerated the process. The bad news is that this could result in our own extinction, as well as that of many of the species co-existing with us. But even that is part of the natural ticking over of things. Every species dies out eventually.
SouthAfrica.co.za dives into human activity around the world and how it has affected climate change. It also looks at the catalyzation of global warming due to industrialisation, oil wars and emission of greenhouse gasses.