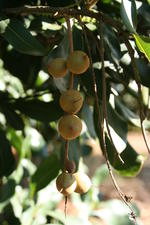 ©Louise Brodie
South Africa is the world's largest producer of Macadamia Nuts.
Macadamia nuts are indigenous to Australia, originally found in the rain forest all along the coast of north-eastern Australia. While the trees had long been known to the aborigines, who called the macadamia kindal kindal, the first tree was propagated from seed by British colonist, Walter Hill, who was the director of the Botany Garden in Brisbane around 1857.
Hill named the tree after his Scottish friend, John Macadam, who died in a ship injury before he was able to taste the nuts. William Purvis took some nuts from Queensland Australia to Hawaii in the early 1880s. The development of efficient cracking machines in the 1940s signalled the start of commercial production in Hawaii.
Commercial production in Australia only really started in the 1960s after superior macadamia selections were imported from Hawaii.
Global Production
The global industry is quite small, with macadamia nuts accounting for just over 1% of the total tree nut volumes produced internationally.
Local Production
Macadamia nuts were already established in the Durban Botanical Gardens in South Africa in 1915, the source of which is still unknown. Commercial production was established in the 1960s with production increasing so much over the years that South Africa has turned into Australia's main competitor for the title of the world's largest producer.
The South African Macadamia Growers' Association, SAMAC estimates that there are over 700 producers in the country. The country also boosts the single largest commercial planting in the world.
Production Area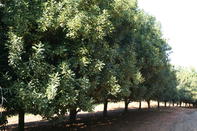 ©Louise Brodie
Macadamias are produced in Limpopo, Mpumalanga and KwaZulu-Natal.
Macadamia trees require a hot non-humid subtropical climate. In South Africa they are primarily produced in Levubu and Tzaneen in the Limpopo Province, Hazyview, Nelspruit to Barberton in Mpumalanga and coastal KwaZulu-Natal.
Varieties
In South Africa, Beaumont (695) is the most widely planted macadamia nut cultivar, followed by A4, 816, 814, Nelmak 2, 695 and 842. Nelmak 2, 842, A4, 695 and 814 are favoured for their precocity and subsequent high yields, whereas Beaumont is favoured for its drought tolerance and 816 and A4 for its nut quality. Most of our new cultivars and selections are imported from either Hawaii or Australia.
Season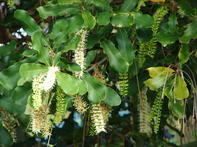 ©Forest and Kim Starr
Macadamia trees flower in spring from August to September.
The harvesting season runs from March to July. It is difficult to differentiate between mature and immature nuts, so farmers either pick the macadamia nuts from the floor after they have fallen to the ground, which is very time consuming and labour intensive, or use mechanical harvesters or shakers to shake mature nuts onto nets.
Sales
South African produced macadamia nuts are in high demand across the world because of their high quality. The industry in effect is an important job creator and makes a huge contribution to rural and the overall economy of the country.
About 50% of our exports are exported nut-in-shell to Asia and mainly China, while the remainder is processed to kernel for markets in the United States, Canada, Europe, Japan, South East Asia and the Middle East.
Besides the high quality and high yields, the industry also has the advantage of lower production costs than most other countries and of being well organised through SAMAC, which is funded through a statutory levy and mandated with promoting research and development, market access and consumer awareness.
Uses
Macadamia nuts are enjoyed as a snack and are also used in the confectionary, baking and ice cream industries. In the past, macadamia shells were simply discarded after removal of the kernel. More recently, alternative uses for this by-product has emerged, such as skin creams, biochar, carbon filters, a source of activated charcoal for use in poisonings, nano-powders and homeware.
SAMAC has recently launched a Shell Innovation Challenge, in which contestants are encouraged to submit new innovative ideas for the renewable use of macadamia shells.
For bulk or Macadamia Nuts export enquiries please use the enquiry link below.