Johannesburg to Kruger National Park
Travel approximately 5 hours from Johannesburg through beautiful mountain ranges to Mpumalanga. There are few regions in the world that can match the phenomenal beauty of the Mpumalanga Lowveld and escarpment. Panoramic passes, valleys, rivers, waterfalls and forests characterise the landscape and the area offers exceptional opportunities for bird-watching, hiking, horse-riding and fishing.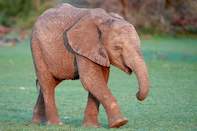 ©Shem Compion
Elephant in South Africa.
Arguably one of the most well-known national parks on the African continent, The Kruger National Park is South Africa's premier game reserve.
Even though the subcontinent is blessed with hundreds of beautiful and biologically diverse conservation areas, you still find that many people have a peculiar connection to Kruger as the greatest of them all, as well as being the biggest national park in South Africa.
Your first stop is an elephant sanctuary for a memorable encounter with the gentle giants of the bush. Feel the rough contours of the elephant's wrinkly skin, and look into the beautiful brown eyes of these tusked creatures. Earn their trust by feeding them tasty treats and witness their playful nature.