The Kruger to Canyons Route brings the imagination of every explorer to life. Stretching through the semi-arid savannah land of the Bushveld, to the depths of the canyons and their highest viewpoints, via the rolling grasslands of Mpumalanga's Lowveld sprinkled with waterfalls on the way; the Kruger to Canyons Route truly showcases Africa's diversity in landscape.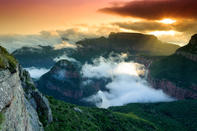 ©Shem Compion
Blyde River Canyon on the Kruger to Canyons Route.
Here pioneers have left their footprints in the form of names, stories and towns. The position of the area brought about many defining activities in and around settlements, like trade-centres and the rush for gold, bringing together different groups of people and resulting in an interchange between cultures.
The Kruger to Canyons (K2C) Route is situated in the North-Eastern corner of South Africa, nestled in the Limpopo province, but extending its branches into Mpumalanga Province. It stretches from Phalaborwa in the north, through Hoedspruit and connects with Graskop via several roads.
The K2C covers a large area and as the name implies, offers a journey from the Kruger National Park, past the Olifants River and its canyon to the magnificence of the Blyde River Canyon, the world's third deepest canyon. Between these main features, many natural and cultural treasures are to be found, as well as a range of indoor and outdoor activities.