Bucket List Adventure
Not many people can claim to have cycled with the Big 5 beasts in one of the world's premier game parks, that's for sure. So, if you do find yourself at Olifants Camp, this is one adventure you should definitely have on your bucket list.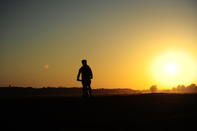 ©Jacques Marais
Sunrise bike ride in the Kruger National Park.
Catch a ride to the start of the trail in one of the open game viewing vehicles, all under the watchful eye of your two highly skilled (and armed, of course) field guides who will lead the trail. You can use one of the stock bikes from national parks (or bring your own) while even backpacks, water bottles, cycling helmets and snacks for the day are supplied.
The mountain bike trail at Olifants Camp is anything but your average afternoon ride. Freewheel down a hippo channel, change gears next to a giraffe and pedal like mad past a lioness. And, all the way, hope you don't get a puncture.
There are various options from 12 km to 25 km, on gravel park roads, rangers' jeep tracks and game paths. Hardekool Draai Ride (21.4 km) is an easy return ride. Olifants/Letaba River confluence Trail (12 km) is a great off-road cycling experience. There are many thorns, so it is advisable to use the camp's bike rather than your own.
A Novice Ride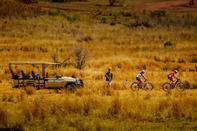 ©Jacques Marais
Bike riders are accompanied with an armed Ranger.
Hardekool Draai, this easy return route option starts off with a gentle ascent along a slightly rocky rangers' road doubling as a firebreak. You will pass through dense stands of mopane, with views every now and then of the Olifants River. Venture off-track at any time, and you'll find the ground covered in a carpet of thorns of all shapes and sizes.
If you bring your own bike, make a 1000% sure it is properly puncture-proof. Hardekool Draai may well be a "novice ride" by some mountain bikers' standards, but the riding here in Kruger Park is aimed at integrating your sport with your surroundings, rather than proving how skilled you are on your bike.
Olifants/Letaba River Confluence Trail
©Jacques Marais
Riders need to be aware of their surroundings at ALL times.
If you follow the S44 gravel road beyond Olifants River viewpoint for just over 10 km from camp, you'll find an unmarked, dual-track road which will whip you away on an unforgettable mountain biking experience.
Rocks, branches and tight turns will keep you fully focussed on the ride, to such an extent that you may forget that at any moment you may bump into elephant, buffalo, lion, nyala, waterbuck, giraffe or zebra, to name just a few of the park's 147 mammal species. The route is not strenuous, but participants need to be skilled riders to appreciate the ride, as the terrain is graded intermediate to difficult.
Klipkoppies Mozambique Border Trail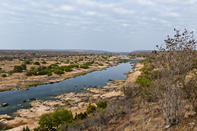 ©Roger de la Harpe
View of Olifants River to the east of Olifants Camp, Kruger National Park.
Olifants Camp is situated a mere 22 km from the Mozambican border, and a short drive on the S44 past Olifants River viewpoint will take you to the Letaba River.
Cross the river on a fire-break road to your starting point, and crank off along the trail leading south-east. You will be heading towards the Lebombo Mountains to eventually ride along the border fence with Mozambique. This circular ride is an Intermediate to difficult ride, so would not really be suited to inexperienced mountain bikers.
By
Jacques Marais