The Renegade Rangers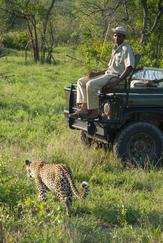 ©Peter Delaney
The early days were tough on the warden and his first rangers. They and their wives, if they were married, lived in primitive conditions and spent most of their time in lonely outposts with disease and danger all around them.
They could be cut off for weeks at a time by summer floods, but it was part of the way of life and most of them loved it with a passion.
The first section ranger appointed by James Stevenson-Hamilton was an ex-hunter and former cavalryman, the tough-as-biltong Harry Wolhuter. Wolhuter's legend was ensured when he survived an attack by two male lions, killing one with his sheath knife.
The knife and skin can still be seen in the little museum at Skukuza, the site of Stevenson-Hamilton's home and the first public rest camp in the park.
Under-Appreciated Pioneers
Another famous ranger was Nombolo Mdluli who worked in the park for 52 years, starting in 1919. He survived several lion attacks and saved the lives of more than one ranger.
Thankfully, there is now a research programme in place to document the stories of these under-appreciated pioneers of conservation so that we may accord them their appropriate place in the park's mythology.
By
David Bristow