An Extraordinary Life
In South African mythology, there seems to be a special place reserved for game rangers. Their exploits are legendary as is their bravery, and stories of their derring-do abound. In fact, it seems that just about every ranger who lived in the Kruger National Park has published a memoir about their exploits, and most of these have been best-sellers.
©David Fleminger
A modern day Game Ranger.
It must have been an extraordinary life; riding through the brooding bush, facing charging elephants, confronting man-eating lions and dodging grumpy hippos. Several of these encounters have ended badly and a number of rangers have lost their lives in the park, but that only serves to enhance their status. And there are many sides to the profession which goes beyond thrilling anecdotes and chilling fireside tales.
Ecologically-Minded Guardians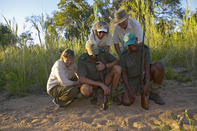 ©Roger de la Harpe
In the beginning, certainly, the rangers were a tough and hardy bunch of loners, recruited by James Stevenson-Hamilton for their ability to survive in the wild. They were also expected to shoot straight, manage their staff effectively and patrol vast areas of bush for poachers.
Knowledge of what became known as 'conservation science' was not a priority. All in all, they were a pretty mangy lot and James Stevenson-Hamilton seems to have held most of them in some disdain. Disease, old age and the various world wars took their toll on the First Guard, and new rangers were constantly being appointed to new stations Their focus would also shift from mere law enforcers to being ecologically-minded guardians of nature.
Game Rangers Today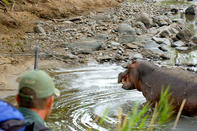 ©Shem Compion
A Game Ranger monitoring the health of a Hippo.
Today, game ranging is an exacting and demanding job. It requires several years of study and apprenticeship before the qualification is attained. This is necessary because a modern ranger needs to be able to juggle the needs of administration, tourism management, guiding and nature conservation.
Yet, for all the technical demands of the job, the call of the bush is probably still the main reason why people want to become rangers. It's like a drug; once it gets into your system, it's very hard to keep away.
Even retired rangers can't seem to get enough of the bush and, in 1961, an Honorary Rangers association was set up. This worthy organisation allows members the opportunity to remain involved in the promotion and development of the park.
By
David Bristow