Segregated Camps
In the old days, people of colour were not encouraged to visit the Kruger National Park. This might have resulted in immoral mingling of the races and the subsequent downfall of society.

©Roger de la Harpe
Thulamela Cultural Site near Punda Maria Camp, Kruger National Park.
After all, one of the ostensible purposes of the game reserve was to protect the game from the depredations of the native populations – it wouldn't do to invite them back in! And this didn't just apply to the blacks. In 1932, more than a decade before the National Party came to power, Gustav Preller complained that Indians were staying in the same rest camps as the white people.
James Steven Hamilton countered the complaint with the cheeky defence that he thought they were Portuguese. Later, a Japanese ambassador visited the park and James Steven-Hamilton grumbled in his journal: "Pray God these fatheads do not treat him as 'Asiatic'."
Group Areas Kruger Style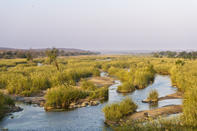 ©Roger de la Harpe
Olifants River, Kruger National Park.
In order to keep things nice and separate, the first (and only) rest camp for all races (other than whites) was opened in 1932, at the suggestion of then-Minister of Lands and future prime minister, JG Strijdom. It was located on the south bank of the Olifants River, after which it was named. But then, in 1961, the 'Olifants' name was given to the newly renovated whites-only camp on the other side of the river and the black camp changed its name to 'Balule', a contraction of the XiTsonga name for the Olifants River.
At Balule, a pontoon across the Olifants River was constructed. This floating platform carried vehicles across the wide watercourse from 1929 to 1937, when a permanent causeway was built a short distance upstream. A memorial plaque has been erected on the site, and it is one of the few historical markers that pays tribute to Deneys Reitz, an early supporter of the national park movement.
An Austere Camp
Although it may seem out of character for the apartheid regime to allow the existence of a camp for the darker races, it was hardly a place that encouraged visitors. Located in a remote part of the park, far from the nearest entrance gate, Balule was a pretty rudimentary affair. There was no shop, fuel or reception office.
Accommodation consisted of a couple of basic rondavels and a handful of campsites. Electricity was never installed. The token camp was also very small, only a few hundred metres from side to side, and was roughly fenced with thin wire. All in all, Balule was not an inviting place and was described as 'austere', even in the 1980s. Surprisingly, Balule is now one of the most popular camps in the Kruger National Park, for people in the know.
It's booked out months in advance and aficionados claim that it is the most peaceful and least intrusive rest camp in the entire park. There is still no electricity, nor is there a reception office, swimming pool, or restaurant. This lack of modern accoutrements allows the small camp to blend into the bushveld, integrating with the landscape in a way that the larger camps simply cannot do.
It is a favourite haunt for happy campers and caravanners who pitch tents along the perimeter fence and gaze out happily into the bush, over a steaming mug of coffee.
A Source of Pride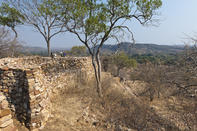 ©Roger de la Harpe
Tourists at Thulamela Cultural Site, Kruger National Park.
Mapungubwe is unusual. It contains the physical remains of a mighty African civilisation that resonates with the concept of an African Renaissance. As such, it is a source of pride for many African people who endured decades of denigration at the hands of colonial and apartheid historians. Secondly, tourism is not yet a well-developed activity within a black society that is still characterised by financial hardship.
Furthermore, statistics show that when black people do travel, it is usually to attend a funeral, a wedding or to visit relatives. Additionally, those middle-class black people who are wealthy enough to travel for leisure generally do not want to visit a game reserve.
As more than one person has informally told me, many black tourists do not consider the wilderness to be an aspirational destination They would rather check into a comfortable hotel and indulge in some western-style luxury. It should, therefore, be remembered that the ideal of an untouched natural environment, devoid of the trappings of civilisation, is not a concept shared by all cultures.
For many people, the relatively basic conditions of a game reserve reminds them of a former life, when they were forced to live in rural areas without any infrastructure.
As several black comedians have stated, candlelit dinners may be romantic to white people but to black people, it just reminds them of being poor. Nevertheless, recent figures show that the percentage of black South Africans visiting national parks has increased to around 10% from an estimated 4% in 2003. Mapungubwe, Golden Gate and the Kruger National Park are the most popular destinations for this demographic.
By
David Fleminger