Knysna lies on the banks of a tranquil lagoon, guarded at its mouth by The Heads and overlooked to the north by the Outeniqua Mountains.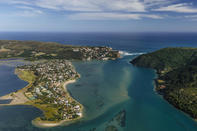 ©Roger de le Harpe
Surrounded by lush indigenous forests of yellowwood, stinkwood, Cape beech and red alder, its history is closely linked to the exploitation of the forests and to George Rex, a legendary figure who bought the farm Melkhoutkraal in 1804 and established himself as a timber merchant.
One of the most popular coastal resort towns along the Garden Route for South African holidays, Knysna offers visitors a wide range of water sports (in the lagoon and the sea) and adventure activities. Those in search of a more relaxed holiday can explore the lagoon aboard a houseboat, or on a boat cruise. The lagoon is home to the endangered Knysna seahorse (Hippocampus capensis) as well as many of the over 230 bird species recorded in the area to date. It is also famous for its fresh oysters.
Places of interest include Millwood House, dating back to the region's short-lived 1870s gold rush and now a museum, George Rex's grave and the Angling Museum. Numerous arts and crafts galleries, gift shops, farm stalls and furniture factories abound.