Established in 1994, the Knysna Elephant Park was the first facility to rehabilitate and care for orphaned elephants in South Africa. The elephants at the Knysna Elephant Park consist of rescued calves and adults that have been abandoned or have lost their herds due to culling.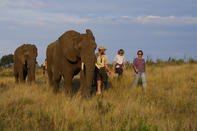 ©Roger de la Harpe
Guided walks with elephants at the Knysna Elephant Park.
The Knysna Elephant Park is located along the famous Garden Route in the Western Cape, South Africa.
The Garden Route was once home to many herds of elephants that roamed the forests and plains in the area. Unfortunately, after much culling by European settlers and farmers their numbers dwindled to near extinction. Today there is only one natural herd roaming the area. The Knysna Elephant Park uses this natural environment to nurture the rescued elephants back into the wild. A volunteer program is on offer for those wanting to help these gentle creatures.
A visit to the Knysna Elephant Park offer great insight into these amazing creatures. Activities are geared for the whole family and include responsible supervised interactions, daily tours, elephant walks and sundowners. Accommodation is also available for overnight stays. Being located on the Garden Route, visitors can also enjoy the pretty town of Knysna and surrounding beaches.