Owner and namesake Kat van Duinen founded this luxury fashion house in Cape Town, South Africa in 2010. The label's signature exotic leather pieces paved the way for a vibrant African aesthetic which has garnered an international audience of fashion aficionados.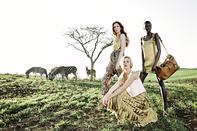 ©Kat van Duinen
The Kat van Duinen brand is a fusion of the designer's Polish heritage and the warmth and richness of the African continent, more specifically, South Africa.
'I believe in a well-curated, quality wardrobe that is not brimming with trend-based pieces, but rather carefully filled with garments and accessories that are timeless and versatile – and that will be passed down from generation to generation.' - Kat van Duinen
With most of the materials sourced and assembled by hand in South Africa, Kat van Duinen has demonstrated her passion for premium quality and locally-produced designer goods.
You too can own a piece of the well-crafted luxury goods produced from the highest quality materials and skins. There are a range of collections, bags, garments and accessories to explore to find the perfect piece for you.