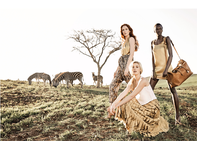 An elegant South African designer handbag says a lot about your personal taste and style - it is a staple for both fashion and function. South African designer handbags are made with impecable quality materials and a unique twist on the ordinary organizer, as local South Africa handbag designers take inspiration from the country's magnificent wildlife and beautiul organic structures.

Whatever the occasion calls for, local designer handbags are statement pieces that will transfrom any outifit into a classy replication of your unique personality. The only question that remains is where to find South African deesigner handbags; look no further than South Africa Online ®'s range of classic and elegant handbags, totes, vanity bags, clutches and travel bags.

Every item is produced locally, giving travellers one more reason to boast about their handmade African handbag.