Kgalagadi and surrounds
Join a local tracker on the Khuin Kwa Kalahari Experience. One of the highlights of a visit to the Kalahari is an opportunity to walk with a true Kalahari tracker.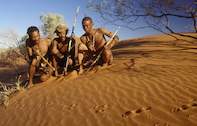 ©Roger de la Harpe
San men looking at animal tracks.
The walks can be tailor-made to suit personal preferences and interests varies between an hour-long to a full day. The trackers have a wealth of traditional knowledge to share.
After a walk with a tracker, you can learn more about this ancient culture at the Khomani San Living Museum. You will gain insight into the life of the friendly San people at this authentic open-air museum. The programme is interactive, allowing you to try your luck at shooting an arrow, making traditional crafts or playing traditional games. The more adventurous can brave the Kalahari dunes on a dune board.