Green Kalahari Gem
Kakamas, in the Northern Cape of South Africa, is a 'modern day oasis', because arriving in even the tiniest of towns in the Northern Cape warrants a celebration. If a town is sizeable, and set within a green swathe of vineyards and orchards, and has a water-wheel, then it feels like arriving at an oasis after days in the desert. This is sort of what it is like when you reach Kakamas after hours on the arid plains surrounding the town.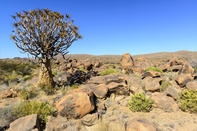 ©Roger de la Harpe
The Kakamas area is dotted with Quiver trees.
This farming dorp makes for an interesting community - originally built under the auspices of the Dutch Reformed Church by the local congregation. The spot was first known as 'Bassonsdrif' and was later renamed 'Kakamas', which is the Khoi word for 'poor pasture'. This does not correspond in the least with the fertile valley that now stretches along the lower Orange River, brimming with verdant vineyards, cotton fields and fruit orchards.
The dorp is a mixture of spacious old homesteads with big stoeps, and large plots adorned with their own windmills - fruit trees are also not uncommon. Church spires pop up in places, and water-wheels churn along, driven by irrigation channels from the river. The climate is generally hot and dry, with blistering summer heat and freezing winter nights.