Visitors to Kakamas will definitely not miss Die Pienk Padstal. Situated on the outskirts of Kakamas, on the road to Upington, it is true to its name and painted bright pink.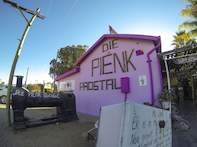 ©Roger de la Harpe
The Pink Padstal in Kakamas.
Everything about the Pienk Padstal farmstall, from the shade nets to the roses in the garden and the gemstones used as decorations, is pink.
One fascinating must-see is an arrow showing the 1988 flood level – it is about waist height and one can only imagine the damage the waters caused. The farmstall wall also has an array of photographs illustrating the flood. Another essential visit is to the farmstall's public toilets – both the gents and ladies being an experience one will not easily forget.
Local Lekker Delicacies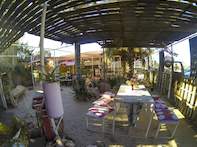 ©Roger de la Harpe
Shop for local arts, crafts and delicacies at the Pienk Padstal.
After admiring the décor, travellers can stock up on choice grade South African dried fruit, home-made jams and chutneys, local wines, 'biltong' (jerky) and 'droë wors' (dried sausage) dates and grapes in season.
Other items on sale at the Pienk Padstal include local arts and crafts, leather products and souvenirs.