A Mongrel Named Jock
Sometime in the 1880s a young and green — and it must be said naive — Percy FitzPatrick tried his luck at the diggings, lost all he had, and resorted to driving a transport wagon and lost all again. It was near the base of Ship Mountain, in clear sight of today's Jock Safari Lodge, that he became the master of a mongrel runt he named Jock.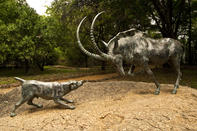 ©Justin Fox
Jock of the Bushveld, Kruger National Park, South Africa.
Their adventures together are the subject of South Africa's best-loved children's book Jock of the Bushveld that has been in publication since first printed in 1907, which he wrote for "the little people" at the insistence of his good friend Rudyard Kipling. To give an idea of what life was like back then in 1885, FitzPatrick sets the scene: "We travelled light on most occasions, and, except for some tea and a very little bit of flour and salt, tools no food; we lived on what we shot and of course kept a 'Hunters Pot'.
'Hunters Pot' is a perpetual stew; you make one stew and keep it going as long as necessary, maintaining a full pot by adding to it as fast as you take any out; scraps of everything go in; any kind of meat — buck, bird, pig, hare — and if you have such luxuries as onions or potatoes, so much the better...
When allowed to cool it sets like brawn, and a hungry hunter wants nothing better. "FitzPatrick lost all his oxen while taking a shortcut through an area ridden with tsetse flies, but went on to make his fortune on the gold diggings around Barberton and later on Johannesburg's Witwatersrand gold fields. He was subsequently knighted for his services to the new South African union in the aftermath of the Anglo-Boer War.
'Jock' Marks the Way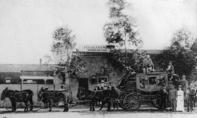 ©Roger de la Harpe
Showing Percy FitzPatrick and his dog at the Companies Office, Pretoria.
There are three Jock Waymarkers (named after the famous dog in the novel 'Jock of the Bushveld' by Sir James Percy FitzPatrick) in the Kruger National Park along the S114, a section of which was part of the Voortrekker or Delagoa Road trading route. The first is a little way beyond Pretoriuskop at Samarhole Spruit, or Ship Mountain Camp. The site itself is off the main road, and it's where, in 1885, the terrier Jess gave birth to a litter of six pups under a big tree.
Among them was one runt that would have been put to death had not a young man named Percy FitzPatrick taken a shine to the little wretch and named it Jock. This is also where FitzPatrick and his party nearly lost their wagons and equipment in a runaway veld fire. There is another waymarker where the H2-2 (Voortrekker Road) makes a T-junction with the S114.
This is where the trading road turned north for a short distance before heading east again to Albasini's Trading Post near Lower Sabie (and from there into Mozambique). It was known as the Fihlamanzi Intersection, or 'hidden water' (now Fihlemanti). It was another favoured outspan because of the water close by. The final waymarker is located at a parking spot overlooking the drift of the Crocodile River on the Malelane-Crocodile Bridge road (S25).
It was here that Jock, Percy FitzPatrick and his assistant (the herculean Jim Makokel) had their famous fight with a crocodile. This specific spot is not mentioned in the book. However, it is a private safari lodge — the first private lodge established in the park — named in Jock's honour. There is a bronze statue of the dog, together with a regal sable antelope. It was the site of the park's original Jock Bushveld Camp, and the southern border of the private concession is along the old wagon route. In June 1892, the railway line between Pretoria and Lorenzo Marques reached Mbombela (Nelspruit).
After that, wagon transport declined and the transport route was used only occasionally, slowly falling into disuse and decline. FitzPatrick moved to the Witwatersrand and in time made his fortune there. Jock did not live to share his good fortunes, but you'll have to read the book to find out why.
By
David Bristow