UNESCO's Choice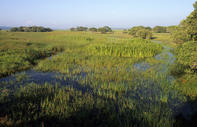 ©Roger de la Harpe
The Greater St Lucia Wetland Park, now the iSimangaliso Wetland Park, was declared a World Heritage Site in 1999. The UNESCO committee decided to include within the boundaries two marine protected areas (St Lucia and Maputaland marine reserves), and 11 non-marine areas - (Maphelane Nature Reserve, St Lucia Park, Eastern Shores State Forest, Cape Vidal State Forest, Nyalazi State Forest, False Bay Park, Sodwana State Forest, Sodwana Bay National Park, Lake Sibaya Freshwater Reserve, the Coastal Forest Reserve and Kosi Bay Nature Reserve).
A Park of International Importance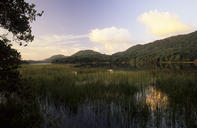 ©Roger de la Harpe
The iSimangaliso Wetland Park, has been inscribed as a World Heritage Site not only because of its vital turtle-nesting beaches, but due to its exceptional biodiversity, its natural beauty and because of the estuary and lakeland's unique ecological processes.
The park is made up of five distinct ecosystems (providing habitats for an enormous diversity of biota): the coastal and marine system, the eastern-shore dune forests, the estuary and lake systems, the Mkhuze River papyrus swamps and the drier acacia savanna of the western shore. In turn, these ecosystems have tremendously rich micro-habitats such as mangroves, coral reefs and raffia-palm forests.
Worthy of Heritage Status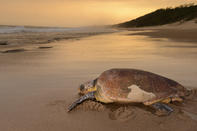 ©Roger de la Harpe
It's not only the geographical diversity that makes iSimangaliso worthy of heritage status. There is a staggering variety of flora (2,185 recorded species), mammals (129 species), reptiles (128), bird life (526) and fish (1,039). These statistics tell us why the park's preservation is so important in ecological terms. But for the lay visitor it is the particular atmosphere, the wild coupling of ocean and land in this corner of Maputaland, that is so captivating.
You step from a log cabin and wander to the beach through a dunescape of casuarinas clacking their trunks in the wind like storks, and raining cones and needles. Over a rise…and then before you is a warm, coral-rimmed sea patrolled by sci-fi manta rays, tiger and whale sharks, and three species of turtle. In the black depths lurks a living fossil, the coelacanth, cruising the coast prehistoric riverine canyons. You stroll along a beach bustling with confetti-like ghost crabs. Low, threatening clouds are adorned by a perfect rainbow. As if to stretch credibility, two migrating humpback whales breast past, so close you can hear their exhalation.
Bird Spotting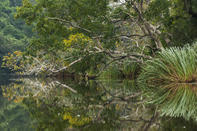 ©Roger de la Harpe
Later you wander the thickly forested dunes of buffalo thorns (Zizyphus mucronata), Natal mahogany (Trichilia dregeana) and pigeonwood (Trema orientalis) strung with monkey ropes and old man's beard. Coastal strelitzias (Strelitzia nicolai) poke their shaggy heads through the canopy. On the lookout for elusive forest fowls, you hear a rustle: it's only a samango monkey or a Tonga red squirrel. But your morning's ticks do include green twinspots, purple-crested turacos and African emerald cuckoos.
Behind the dune ramparts are grasslands dotted with lala (Hyphaene coriacea) and wild-date palms (Phoenix reclinata), roamed by rhinos and cantankerous elephants. Out on the plains, inquisitive kudus approach your vehicle with Medusa headgear seemingly too heavy for their heads. You pass more reedbucks than you're likely to see anywhere else in Africa.
At dusk you walk the wetland fringes. Pressing mangroves, the splash of wings, the disconsolate grumbling of an outboard engine. Even the most innocuous pond leaves you painfully aware of logs with teeth and barrels that grunt. Suddenly the salmon sky is filled with 10,000 flamingos staining the air an even deeper pink.By
Justin Fox