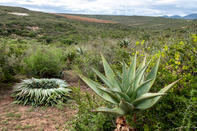 © Chris Daly
Typical aloe ferox plants in the veld near Albertinia.
Natural Habitat
A small town found on the panoramic Garden Route of the Western Cape bears the title: 'Home of the Aloe'. Commonly referred to as Albertinia, its secondary name is well justified in that its landscape of rolling hills and rocky outcrops are ablaze with aloe ferox. In fact, the town is a global exporter of aloe-related products.
Aloe ferox, however, does not just occur in the small towns of the Western Cape. Its natural habitat comes in a range of textures, with aloe ferox being found on mountain slopes, rocky locations surrounded by fynbos to open flat plains. Initially, aloe ferox began in the Swellendam region meandering throughout the Western Cape, the Eastern Cape, KwaZulu-Natal, including areas like the south-eastern part of the Free State and Lesotho.
Many Names
Aloe ferox is a succulent that is astoundingly useful. Sought after the world over for its medicinal and healing qualities, it is understandable that a plant so precious would have more than one name. Many names and many functions, the name 'aloe' is originally derived from the Greek word for the dried juice of aloe leaves, while 'ferox' means bold, fierce or war-like in Latin, a name it acquired due to its prickly appearance.
This succulent belongs to the Aloaceae family forming part of the Aloe Linnaeus genus, which has approximately 360 species found throughout Africa, particularly in South Africa, East Africa and Madagascar. The other names of aloe ferox are bitter aloe, the Cape aloe, the red aloe, the tap aloe, bitteraalwyn (Afrikaans), iNlaba (Zulu), and iKhala (Xhosa).