The Hex River Valley is the gateway between the Western Cape's Boland region and the coast beyond to the south and the plains of the Great Karoo to the north.
©Jean Tresfon
Hex River Valley.
In fact, it is more than simply a gateway as it is the most direct route through the Western Cape Fold Mountains to the north of the country and acts as a logistical funnel for any traffic along this route. The strategic significance of the route has been recognized since the very earliest days of the region's settlement and has had a strong influence on the development of the valley and adjacent regions to the north.
The valley runs from South West to North East. It is 25 km long and relatively narrow, measuring only 4 km wide at its widest point. The valley is surrounded by the towering peaks of the Hex River Mountains to the North and the Kwadouw Mountain Range to the south, which account for the region's magnificent and rugged scenery.
The highest peak in the Hex River Mountain Range is Matroosberg and at 2230 metres it is one of the highest peaks in the Western Cape. It is situated to the North at the eastern end of the valley and the name translates as "Sailor Mountain" it has a very distinctive rock formation on the skyline that resembles a small boat with a sailor standing at the stern.
Valley Water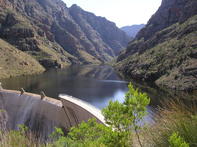 ©Louise Brodie
Roode Elsberg Dam, Hex River Valley
There are approximately 5 000 hectares of irrigated land in the Hex River Valley, mostly table grapes. This is under the auspices of the Hex River Valley Water Utilisation Association. Approximately half of the water resources in this region is surface water from dam and river catchment areas and the balance is groundwater accessed by boreholes from the area's abundant aquifers. The biggest state storage dam in the valley is the Roode Elsberg Dam (also known as Zanddrift dam as it is situated in Zanddrift Kloof).
The dam was completed is the source of much of the water available to growers, municipality and industry in the valley. The dam is located in a kloof (narrow valley) which runs more or less parallel to the Hex River to the North. As this valley is separated from the main valley by a mountain range part of this state irrigation project is a 5 km long tunnel with a 2 metre diameter that runs through the mountain range and feeds water through gravitation to the pumping station at Orchard.
From there it is distributed for agricultural, municipal and industrial purposes. The Roode Elsberg Dam and water scheme were completed in 1972. The Osplaas dam in the North East of the Valley was completed in 2007.